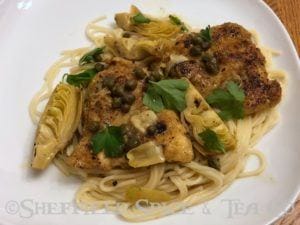 Chicken with Artichokes and Capers
We love Chicken with Artichokes and Capers because we love the flavor of lemon with capers. Served over Angel Hair Pasta and it's like we get with many of our favorite chicken dishes in our local Italian restaurants. So when you put it all together, we have our Chicken with Artichokes and Capers.
Our Lemon Pepper No Salt adds a lemony flavor without using lemon juice. The other spices and herbs round out the flavor, imparting an overall savory flavor to the chicken. Sprinkling a bit on the chicken while cooking and tossed with the pasta in addition to some in the flour adds extra flavor to make your guests want your recipe. The parsley garnish also adds a nice finish to the dish.
We like to serve the chicken with a mixed greens side salad tossed with our Italian Salad Dressing. We have just enough zest in the dressing to complement any salad to serve.
Servings: 4
Ingredients:
¼ Cup All-purpose Flour
3 Tablespoons Lemon Pepper No Salt
2 Boneless Skinless Chicken Breasts, cut in half, sliced in half, and pounded thin if needed to make 8 cutlets about ½" thick
2-3 Tablespoons Extra Virgin Olive Oil
1 14.5 Ounce Can Low-sodium Chicken Broth
3 Tablespoons Rinsed and Drained Capers
1 14 Ounce Can Artichoke Hearts Packed in Water, Drained, Rinsed, and Quartered
3 Tablespoons Butter
16 Ounces Angel-hair Pasta
¼ Cup Parsley Leaves for garnishing
Sea Salt
Directions:
In a large pot, start to boil water to cook the pasta.
On a medium plate or dish, add the flour and 1 tablespoon of the Lemon Pepper No Salt. Mix with a fork to combine. Dredge chicken in the flour mixture.
In a large skillet, heat 1 tablespoon of the oil over medium-high heat. Cook the chicken breasts in batches for 2-3 minutes per side until golden brown. Don't overcook or they can be tough. Lightly sprinkle another tablespoon of the Lemon Pepper evenly on both sides while cooking and when flipped over. Add another tablespoon of oil if needed while cooking second batch. Transfer to a dish and cover with foil to keep warm.
Add chicken broth to the skillet. Bring to a boil and cook until it is reduced in half and thickens a bit. Add the capers, artichoke hearts, and the chicken with any liquid. Carefully move around to combine the ingredients. When it starts to boil, reduce heat for a minute. If you want the sauce a bit thicker, when it starts to boil, add a tablespoon of flour combined with water to the mixture. Gently stir with a spoon constantly for a minute until the mixture thickens a bit. Remove skillet from heat. Add 2 tablespoons of the butter and gently combine. Cover with a lid to keep warm.
Add the pasta to the boiling water. Cook according to the package instructions until al dente. Drain, add the remaining tablespoon of butter and remaining tablespoon of the Lemon Pepper. Gently toss with a spoon until the butter is melted and the pasta is coated with the butter and Lemon Pepper. Plate with some of the pasta, 2 chicken breasts, a few spoonfuls of the caper & lemon pepper sauce. We love the flavor as is, but add a bit of sea salt if you prefer, according to your taste. Garnish with the parsley.