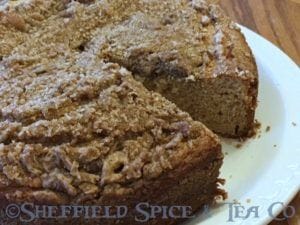 Gingerbread Coffee Cake
Gingerbread anyone? For Christmas? Fall season? Cookies? A Gingerbread House? Make a Gingerbread Man? They all come to mind when one hears Gingerbread. The Ginger, Cinnamon and other spices dance on your tongue as you think back to years gone by. This Gingerbread Coffee Cake isn't so overly gingery that it will sting your palate, but well balanced with just enough spice to ask for a second slice. You can add more spice if you like, but we think this amount is just right.
Coffee Cake Ingredients:
1 ¼ sticks softened butter
1 cup granulated sugar
2 large eggs
2 teaspoons molasses
2 teaspoons vanilla extract
2 cups flour
2 teaspoons gingerbread spice
1 teaspoon baking powder
½ teaspoon baking soda
½ teaspoon salt
1 cup sour cream
Topping Ingredients:
¾ cup flour
⅔ cup dark brown sugar
½ teaspoon gingerbread spice
1 pinch of salt
5 tablespoons cubed cold butter
Directions:
Beat the softened butter and granulated sugar with a mixer, about 3-5 minutes, until well blended and fluffy. Beat in the eggs, molasses and vanilla, combining well.
In a separate bowl, whisk flour with gingerbread spice, baking powder, baking soda and salt. Beat this mixture into the butter mixture in several batches, alternating with the sour cream. Pour into a buttered 9-inch Springform pan.
For the topping, mix flour with dark brown sugar, gingerbread spice and the pinch of salt. Cut in cubed cold butter. Sprinkle over the batter. Bake about an hour, at 350 degrees until golden brown. Start checking at 50 minutes. Continue to bake until toothpick or tester comes out clean. Cool, then cut and enjoy with your favorite cup of tea.