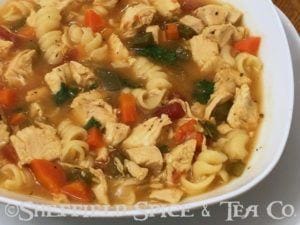 Hearty British Pub Chicken Soup
Everybody loves a good chicken soup and our Hearty British Pub Chicken Soup is one of the best chicken soups we've made. The chicken and vegetables are chunky, the flavor of the vegetables is savory, and our British Pub Chicken Seasoning adds all the necessary spice flavors to the soup. We do add some basil and extra garlic and a touch more salt to round out the flavor we were desiring. Our seasoning is a low-salt blend, so you can always add the extra salt at the end according to your taste.
As you read in many of our soup and stew recipes, we like to serve them with a side salad and a slice or two of crusty bread. A salad with this soup would do nicely with our Italian Salad Dressing or Greek Salad Dressing. We also have an Easy Crusty Bread Recipe, if you can't find an appropriate one at your local bakery.
Yield: 8 Servings
Ingredients:
2 Pounds, (about 3-4 Medium) Boneless Skinless Chicken Breasts,
1 Medium Onion, Chopped
2 Large or 3 Medium Carrots, Chopped
1 Medium Bell Pepper, Chopped
3 Ribs Celery, Chopped
2 ½ Tablespoons Sheffield's British Pub Chicken Seasoning
1 Tablespoon Dried Basil
1 Tablespoon Garlic, Minced
1 (14.5 Oz) Can No-salt Diced Tomatoes
2 Bay Leaves
2 Teaspoons Kosher Salt
4 Cups Low-Sodium Chicken Broth
Extra Chicken Broth If Needed
4 Cups Water
1 ½ Cups Rotini (Spiral) Pasta
¾ Cup Fresh Chopped Flat or Curly Leaf Parsley
Directions:
In a large stock pot, add the chicken breasts, onions, carrots, bell pepper, celery, basil, garlic, tomatoes, bay leaves, British Pub Chicken Seasoning, basil and salt.
Add chicken stock and water. Cover and bring to a boil. Reduce heat to low and simmer for 30 to 40 minutes or until chicken is tender. Remove chicken from the pot. Cut into ½" to ¾" pieces and return to the pot.
Add pasta to the soup and continue cooking for about 6-8 minutes until pasta is al dente. Stir the soup several times so the pasta does not stick to the pot. Don't overcook the pasta or it will be mushy. Add extra broth if needed to compensate for any evaporation. This is soup and not a stew.
Remove the bay leaves. Stir in parsley and serve to your hungry guests.