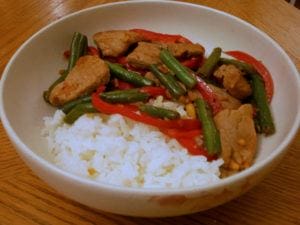 Pork Tenderloin with Green Bean Stirfry
Pork Tenderloin with Green Bean Stirfry is very easy to prepare and make. Pork tenderloin cooks fast and tender, so it's all about the seasoning and sauce. This recipe has a simple rice vinegar, soy sauce and sugar sauce, while the crushed red pepper flakes adds a bit of spiciness to compliment the sauce. The flavor of the green beans and red pepper go well with the pork and are found in many Asian stirfry recipes. Serving over white rice is a simple plating, but you can use jasmine rice or noodles if you like.
Serves 4
Ingredients:
1 Pork Tenderloin, (About 1 Pound) Trim Excess Fat
2 Teaspoons Kosher Salt
2 Tablespoon Unseasoned Rice Vinegar
4 Tablespoons Soy Sauce
2 Teaspoon Sugar
3 Teaspoons Olive Oil, Divided
2 Tablespoons Fresh Ginger, Peeled & Finely Minced
1 Tablespoon Crushed Red Pepper Flakes
¾ Pound Green Beans, Trimmed and Cut into 2-inch Pieces
1 Large Red Bell Pepper, Cut into Thin Strips (Remove seeds and ribs)
⅓ Cup Dry-Roasted Peanuts, Chopped
Cooked White Rice, for Serving
Directions:
Cut pork diagonally, across the grain into ¾" thick slices. Then cut each slice into 2 pieces. Sprinkle the slices on both sides with 1 teaspoon of the Kosher salt.
In a small mixing bowl, add the rice vinegar. soy sauce, vinegar, and sugar. Stir to combine. Set aside.
In a large skillet, heat 2 teaspoons of the oil over medium-high. When the oil starts to shimmer, add the minced ginger, red pepper flakes, and the pork slices. Cook the pork about 3 minutes until it's no longer pink. Using tongs or a spatula, flip the pork slices over once while cooking. Transfer to a plate and cover with foil.
While the pork is cooking, add the green beans to a medium pot of boiling water. Cook about 3 to 4 minutes until crisp-cooked. Don't overcook. Drain the beans, transfer to plate and pat dry.
Add the remaining teaspoon of the oil to the skillet. Add the red bell pepper, green beans and and 3 tablespoons of water. Cook over medium high heat for about 2 minutes, stirring often, until peppers are tender but not too soft.
Add the pork, peanuts, and the sauce. Stir to combine and coat the pork. Cook about 1 to 2 minutes, while still stirring. Serve immediately over the cooked rice.