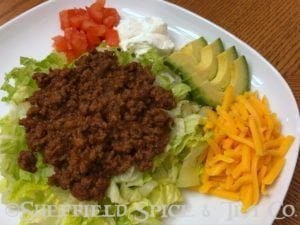 Taco Salad
A Taco Salad is easy to make and always popular. It gives everyone a chance to make their own with a wide variety of toppings. Our Taco Seasoning is sugar-free, so the salad can also be an alternative by using lettuce instead of taco shells. We use an iceberg/Romaine lettuce mix to add a good texture.
Our the taco filling made with our Taco Seasoning is perfect for all your Mexican dishes where a filling is needed. Besides the salad and taco, use in your burritos, enchiladas, on your nachos, botana or a tostada.
Serves 3-4
Ingredients:
1 Pound Ground Beef (or Ground Turkey or Protein Crumbles)
¼ Cup Sheffield's Taco Seasoning
8 oz water
Shredded Iceberg and Romaine Lettuce, enough for 3 or 4 servings.
1 or more Cups of Cheddar or Mexican Blend Shredded Cheese
2 Roma Tomatoes Seeded and Diced
Toppings: Salsa, Sour Cream, Sliced Avocado, Pickled Jalapeno Slices, Sliced Black Olives, Chopped Fresh Cilantro, or other toppings.
Directions:
In a large skillet over medium-high heat, brown your choice of beef, ground turkey or other favorite protein crumbles. Use a wooden spoon or spatula to break up into crumbles while cooking. Drain off any grease. Add ¼ cup of taco seasoning and 8 oz. of water. Stir with wooden spoon to combine well. Turn heat down to low. Cover and simmer for 10-15 minutes, stirring occasionally or until the mixture starts to thicken up. Turn off heat and cover until needed.
While the taco meat is cooking, slice then chop your choice of iceberg and/or Romaine lettuce. Place a bed lettuce on each plate.
When the taco mixture is done cooking, spoon even portions onto the lettuce beds. Serve with toppings, letting each guest create their own Taco Salad their way.