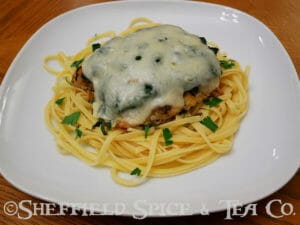 Chicken Florentine
Chicken Florentine is a classic Italian dish, with the spinach being central to the dish, which is on top of a thin chicken breast. From there, you will find many versions. Some top theirs with a cream sauce, some top theirs with a cheese, and some use both. Our version forgoes the cream topping and just uses Swiss cheese. Our Lemon Garlic Pepper, which we use to season the chicken, adds just the right combination of spices and herbs to compliment all the other flavors. The result is a chicken breast much tastier than ones we've had at even higher-priced Italian restaurants. To complete your menu, serve on a bed of linguine and a side dish of a seasonable vegetable.
Serves 4
Ingredients:
2 Large Chicken Breasts cut in half, then pounded thin (about 1 ½ to 2 pounds)
2 Tablespoons, plus 1 Teaspoon Sheffield's Lemon Garlic Pepper
2 Tablespoons Flour
3 Tablespoons Olive Oil
10 oz. Bag of Fresh Spinach
4 Slices Swiss Cheese
Juice of 1 Lemon
Linguine for Serving, cooked according to package directions.
2 Teaspoons Butter
Chopped Italian Parsley for Garnish
Directions:
Preheat oven to 375ºF
Cut the chicken breasts in half then pound chicken breasts to about ¼" to ½" thick. Sprinkle the Lemon Garlic Pepper evenly on both sides of the chicken. Dredge lightly in flour. Shake off any excess.
Heat oil in a large skillet over medium high heat. Cook 2 to 3 minutes on each side until golden brown. Remove from heat, lightly cover with foil and set aside until needed.
Add ¼ cup of water to a medium stock pot, and bring to a boil. Add the fresh spinach and cook for a couple minutes until it cooks down and turns bright green. Remove from the heat and drain well. You don't want excess water left. Don't overcook.
Line a low-rimmed baking sheet with foil. Arrange the chicken breasts on the sheet in a single layer. Divide the cooked spinach evenly between the chicken breasts. Add some of the spinach on each chicken breast. Add a slice of cheese on top of the spinach. Squeeze about a teaspoon of lemon juice over each chicken piece. Cook for 5 minutes, remove baking sheet from the oven, and place a slice of Swiss cheese of each chicken breast. Cook another 5 minutes so the cheese melts. Remove from the oven. The internal temperature should read at least 165ºF with an instant read thermometer.
While the chicken is cooking, prepare the linguine. When the linguine is done, drain well and toss with the 2 teaspoons of butter and the remaining teaspoon of Lemon Garlic Pepper. Toss well so the seasoning is distributed evenly.
To serve, place a bed of linguine on each plate. Garnish with the parsley. Top with one of the chicken breasts and serve immediately. Add a side dish of your choice if you like, like a seasonal vegetable. Enjoy!