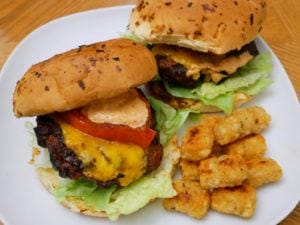 Chorizo Burgers
Chorizo Burgers are a grilled treat. The spices in the chorizo and the smokey spiciness of the chipotle sauce combine for one flavor sensation. The cheese, and the light roasted flavor of the tomato slice add even more layers of flavor. You find chipotle chile and chorizo in many Southwest recipes, but when you combine them in a burger, you have the best of all worlds. Just serve with a couple sides and your party is ready to begin.
Makes 4 Burgers
Ingredients:
Burgers:
1¼ Pounds Ground Chuck (We use 85/15)
6 Ounces Ground Chorizo Sausage
1 Teaspoon Kosher Flake Salt
1 Teaspoon Freshly Ground Black Pepper
1 Teaspoon Granulated Garlic
Sauce:
½ Cup Mayonnaise
1 Tablespoon Ketchup
1 Teaspoon Chipotle Chile Powder
1 Teaspoon Fresh Lemon Juice
1 Teaspoon Kosher Flake Salt
Toppings:
4 Large Tomato Slices
Olive Oil
4 Slices Cheddar, Pepper Jack or Other Cheese
Lettuce Leaves
4 Onion Rolls or other hearty roll
Instructions:
Pre-heat your grill to medium-high heat. If you have 2 zones, heat one zone to medium heat to grill the buns when needed.
Prepare the sauce. In a medium mixing bowl, add the mayonnaise, ketchup, chipotle chile powder, lemon juice and kosher salt. Whisk to combine well. Set aside until needed.
Prepare the burgers. In a large mixing bowl, add the ground beef, chorizo, kosher salt, ground black pepper and granulated garlic. Mix well to combine all the ingredients. Divide into 4 portions and form into burgers, about ¾" thick. Make a 1″ wide indentation in the center of each burger to help prevent the burger from puffing up when grilled.
Lightly brush each side of the tomato slices with bit of olive oil.
Grill the burgers over direct medium-high heat for about 4 minutes on each side for medium doneness. Cook another minute on each side for medium-well. After you've flipped the burgers, place the tomato slices on the medium-high grill. Turn over after 2 minutes. During the last minute, place a slice of cheese on each burger. Also, place the bun halves face down on the medium heat zone of your grill.
At this point, the burgers, grilled tomatoes, and buns should all be done.
To assemble the Chorizo Burgers, place a piece of lettuce on each bun, then a burger along with a slice of tomato. Add a spoonful or more of the chipotle sauce on each burger. Serve immediately, with a favorite side dish or two like baked beans, tots, or steak fries. Enjoy!