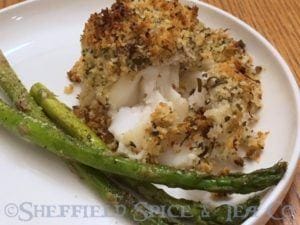 Citrus Herb Panko Crusted Cod
Citrus Herb Panko Crusted Cod is one more way we love to prepare our cod, especially when we find fresh cod that looks so inviting, we can't resist buying several fillets. The simple mixture of the citrus and herb flavors compliment each other so well, they jump out and you and bring out the mild, flakey texture of the cod.
This recipe uses the thicker section of the fillets, since they tend to stay moister, yet retain the flakiness when cooked. If you use the thinner section of the whole fillet, as we will also make at times, just watch the time so they don't overcook and get tough.
Servings 4
Ingredients:
4 1 ½" Thick Cod Fillets, about 6-8 Oz Each
1 Cup Panko Breadcrumbs
3 Tablespoons Unsalted Butter, Melted
3 Tablespoons Dried Fines Herbs
1 Tablespoon Grated Lemon Zest, or 1 Tablespoon Fresh Lemon Juice
Sea Salt
Freshly Ground Black Pepper
Directions:
Preheat the oven to 425F with the rack in the middle position.
In a medium mixing bowl, place the panko breadcrumbs, fines herbs, lemon zest and a teaspoon each of sea salt and freshly ground black pepper. Mix together. Add the melted butter and fold together to thoroughly combine.
Line a baking pan with parchment paper. Place the fish fillets on the baking pan. Season each fillet with salt and pepper to taste. Add equal amounts of the panko mixture on each fillet. Press lightly so the coating stays on the fillets. Place baking pan in the oven.
Bake about 10-15 minutes, depending on thickness, until the breadcrumbs are a golden brown and the fish is thoroughly cooked. When cut into the center, they will start to flake and be opaque. Don't overcook or they will be tough. Serve immediately. We like a dollop of our own Sheffield's Tartar Sauce. Click HERE for the recipe. We also have a Creole Remoulade Sauce Recipe which is also an excellent condiment for this dish or any seafood. For the recipe, please click HERE.  A side of herbed or wild rice, and some seasonable vegetables or asparagus makes for a nice meal.