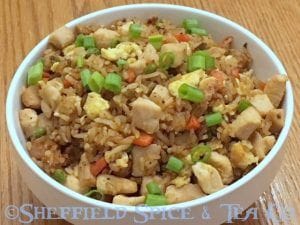 Fried Rice
Fried Rice is a classic Chinese dish, whether as an entree or as a side dish. Our version uses our Asian Accents spice blend, which we blended from ginger, garlic and other commonly used spices in Asian cuisine. The flavor is very savory and not overpowering.
For our Fried Rice recipe you can substitute diced pork roast or shrimp for the chicken. You can also leave out the chicken or use another protein like extra firm tofu for a vegetarian dish.
3 to 4 servings
Ingredients:
3 Tablespoons Peanut Oil, Divided
2 Cups ½" Diced Chicken Breast, about 1 Lb
3 Eggs, Whisked
2 Medium Carrots, ¼" Diced
1 Small Onion, ¼" Diced
1 Cup Frozen Peas, Thawed
3 Tablespoons Sheffield's Asian Accents Blend
4 Cups Cooked Chilled Rice
3 Tablespoons Low-sodium Soy Sauce
2 Tablespoons Sesame Oil
2 Green Onions, Sliced
Directions:
Heat 1 tablespoon of the Peanut oil in a large non-stick skillet over medium high heat. When it starts to shimmer, add the diced chicken. Cook thoroughly, about 3 to 4 minutes. Don't overcook or it will dry out and be tough. Transfer to a bowl. Cover to keep warm until needed.
Add the remaining 2 tablespoons of the oil. Add the carrots, onions and peas. Stir to mix with the oil. Add the Asian Accents blend and stir again to combine. Cook about 3 to 4 minutes, until the carrots are tender.
Add the rice and stir to combine. Add the Soy Sauce and Sesame Oil. Stir again to combine well. Cook for about 5 minutes. The rice should get a bit brown. Add the cooked chicken back in and mix together. Cook another minute to re-heat the chicken.
Move the mixture to one side of the pan. Reduce the heat to medium and add the whisked eggs to the empty side. (If you're not using a non-stick pan, add a bit of butter or oil first so the eggs don't stick while scrambling.) Stir constantly until cooked. When fully cooked, fold the scrambled eggs into the mixture, combining thoroughly. Remove from the heat, and serve immediately. Top with the green onions.