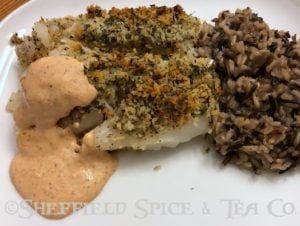 Creole Remoulade Sauce
Remoulade Sauce has it's roots in France. The original isn't spicy and is how it is still made there. When the French brought it to Louisiana, and to New Orleans specifically, spiciness was added with hot peppers and hot sauce. A new standard was born which has put Remoulade on the global map of condiments. Whether you call it Creole Remoulade, or Cajun or Louisiana, or just Remoulade, the flavor might vary somewhat based on the final spicy ingredients, but the experience is the same.
Remoulade is commonly served with seafood, Po Boy sandwiches, shrimp, chicken, crab cakes and even vegetables and potatoes, or wherever a spicy condiment is wanted. Add a dollop to your burger in place of ketchup and mustard. The new flavor is outstanding.
Our version isn't too spicy, while some versions are quite hot. You can always add a few more drops of Tabasco, other hot sauce or some chile pepper powder like cayenne to kick up the heat several notches.
We have several fish recipes which are excellent with Remoulade as the sauce to compliment the dish. Our Citrus Herb Panko Crusted Cod is one of these excellent recipes. For the recipe, please click HERE.
Ingredients:
1 ¼ cups Mayonnaise
3 Tablespoons Coarse Ground Dijon or Creole Mustard (We use Grey Poupon Coarse Country Dijon)
2 Tablespoons Dill Relish Juice
1 Tablespoon Creole Seasoning
1 ½ Teaspoon Hungarian Paprika
1 Medium to Large Clove Crushed Garlic
1 Teaspoon Worcestershire sauce
½ Teaspoon Tabasco Sauce
Directions:
Put all ingredients in a medium mixing bowl. Whisk to combine well. Cover and refrigerate for a couple hours to let the flavors develop. Overnight is better.
Serve the Creole Remoulade Sauce with your fish in place of tartar sauce. The Creole Seasoning adds a new dimension of flavor. with baked potato wedges, over fried fish, with crab cakes or chicken and enjoy!