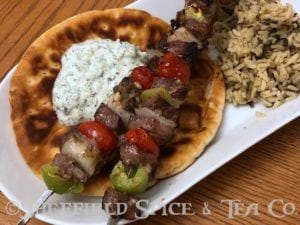 Greek Beef Souvlaki
Greek Beef Souvlaki is a traditional Greek dish. You'll find it made with beef, chicken, lamb or combinations. We use beef or chicken, which can be substituted in the recipe. Our Greek Isles Seasoning has the right spices and herbs which are found in Greek and Mediterranean cuisine. Add the lemon juice and a couple other ingredients and you have everything you'll need for most Mediterranean dishes.
Grilling the skewered meat and vegetables bring out the flavors more with the bit of a char. The bite-size pieces also allow them to cook faster and not over cook.
To complete the meal, serve with lightly grilled pit bread and a side dish of rice pilaf or maybe a Greek Salad. If you make the salad, you need to look at our Greek Salad Dressing mix, as well as our Greek Salad Recipe, which is the classic version made in Greektown in Detroit and throughout much of the Midwest.
Serves 4
Ingredients:
2 Pounds Boneless Beef (tenderloin works the best, but we use sirloin as well)
½ Cup Olive Oil
4 Tablespoons Lemon Juice
¼ Cup Red Wine Vinegar
2 Tablespoon Sheffield's Greek Isles Seasoning
3 Cloves Garlic, Minced
½ Medium Onion, Minced
1 Teaspoon Sea Salt
1 Teaspoon Freshly Ground Black Pepper
Onions, quartered and separated into pieces
Peppers, cut into 1 ½ inch pieces
Cherry tomatoes
Directions:
Cut the meat into 1 ½ inch cubes. Place in a large re-sealable bag or marinating tray.
Whisk the olive oil, lemon juice, and vinegar together. Add the Greek Isles Seasoning, garlic and onions. Pour into the bag or marinating tray and seal. Gently toss to make sure all the ingredients are coated well.
Place in the refrigerator and let marinate for 2-3 hours. You can marinate overnight if you have enough time. Remove the meat and discard the marinade.
Skewer the meat on metal skewers, alternating each piece of meat with the vegetables. If using bamboo skewers, soak them in water for several hours. Cook the meat evenly on each side on medium-high grill until cooked through.
Serve on a platter with lightly grilled pita bread, a side of rice pilaf and tzatziki sauce.