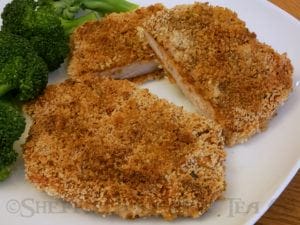 Seasoned Panko Crusted Pork Chops
Seasoned Panko Crusted Pork Chops are a great way to serve pork chops. They don't take long to assemble and bake which make them perfect when you don't have a lot of time to cook. Our Gold Rush Barbeque Seasoning adds a nice flavor both as a rub on the chops and in the panko breadcrumbs. The panko breadcrumb crust also helps to keep them moist while baking.
All you need is a side dish and/or a vegetable to complete your dinner. Rice, roasted potatoes, steamed broccoli, even grilled street corn go well with these pork chops.
Serves 4
Ingredients:
4 Boneless Pork Chops, about 6 Ounces Each
3 Tablespoons Sheffield's Gold Rush Barbeque Seasoning, Divided
2 Eggs
4 Tablespoons Milk
1 Cup Panko Bread Crumbs
Extra Virgin Olive Oil
Directions:
Preheat oven to 350ºF. Line a shallow, rimmed baking sheet with parchment paper.
Pound the pork chops thinner to about ½" thick. Sprinkle the chops evenly on both sides with 1 ½ tablespoons of the Gold Rush Barbeque Seasoning. Rub the seasoning in so it stays coated in the egg dip. Set them aside.
In a shallow dinner plate or pie plate, whisk the 2 eggs and milk together. In another shallow plate, add the panko bread crumbs and the remaining tablespoon of Gold Rush Barbeque Seasoning. Use a fork to combine the panko and seasoning.
Dip the seasoned pork chops in the egg mixture, then press each chop in the seasoned panko mixture on both sides. Make sure each chop has a good coating of the bread crumbs.
Transfer the chops to the baking pan. Drizzle a bit of the olive oil on the panko topping, which helps brown them while cooking. Bake at 350ºF for 25 minutes, until the internal temperature reaches 160 degrees. If they still need a bit more browning, place under the broiler for a couple minutes. Watch close because the bread crumbs can burn fast under the broiler.
Serve with a side dish and vegetable and you are all set. We like to pair our pork chops with rice dishes, green vegetables like broccoli or asparagus. Since these Seasoned Panko Crusted Pork Chops are seasoned with one of our BBQ seasonings, you can also serve our Pintos with Poblano Chiles as a side dish. The flavors go well together. For the recipe, please click HERE.