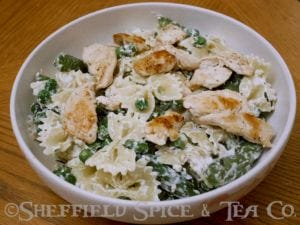 Snap Pea & Peas Pasta
Snap Pea & Peas Pasta is an easy dish which can be made as a side dish, or with some grilled chicken as an entrée. Using both Sugar Snap Peas and Petite Green Peas gives you extra flavor, plus a nice crunch. The tarragon and ricotta cheese combine with the other ingredients to give you a savory pasta dish.
If you grill some chicken to serve on the pasta as our picture shows, just sprinkle the chicken breast strips with a little salt, pepper, and bit of granulated garlic and onion. Pan grill for a couple minutes on each side to cook thoroughly and brown a bit, then serve on top of the pasta. You can also use plant-based chicken strips.
Makes 4 Servings
Ingredients:
12 Ounces Farfalle or Other Smaller Pasta
10 Ounces Frozen Petite Peas
12 Ounces Sugar Snap Peas, Strings Removed If Needed
3 Tablespoons Butter
1 Cup Ricotta Cheese (Part-skim Works as Well)
2 to 3 Teaspoons Dried Tarragon, Crushed
Kosher Flake Salt
Freshly Ground Black Pepper
Pan-grilled Chicken Strips (optional)
Directions:
In a large stock pot, prepare the pasta according to the directions on the package, 3 minutes less than al dente. Add sugar snap peas and cook for 2 minutes. Add the petite peas and cook for 1 more minute. The pasta should be al dente. Test the pasta, and cook another minute if needed.
Reserve 1 cup of the pasta water and set aside. Drain the pasta and vegetables in a colander. Return to the pot. Add the optional cooked chicken at this time.
Add the butter, ricotta cheese and dried tarragon. Carefully toss so the butter melts and the ricotta cheese mixes in. Add some of the pasta water a bit at a time, and carefully stir in so you create a bit of a sauce. Sprinkle salt and pepper to taste. Add the chicken strips at this time if you grilled some. Serve immediately.