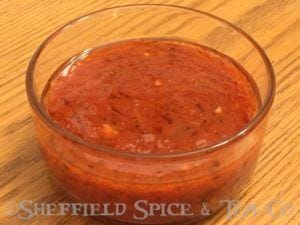 Italian Tomato Vinaigrette Salad Dressing
Our Italian Tomato Vinaigrette Salad Dressing is a wonderful alternative to a standard Oil & Vinegar Italian Salad Dressing. We grew up on a similar Italian Dressing, and we loved it. The tomato sauce used as part of the dressing gives it a rich, savory flavor. There are other salad dressings which use tomato sauce or tomatoes in some form, but it's the Italian and French Dressings we remember most. So when we had a salad at an Italian restaurant with a homemade tomato vinaigrette dressing, the memories came back and we knew we had to make our own version and bring it to our friends. Here it is.
This recipe plays the Oregano and Garlic flavors off of the mild Tomato and White Wine Vinegar flavors. We have used Champagne Vinegar as well, and the result is just as good, since both of these vinegars are much smoother and milder than regular distilled white vinegar or apple cider vinegar. Whether you use this Italian Tomato Vinaigrette on a salad to accompany your romantic dinner of Chicken Marsala, or along side a Chicago-style pizza, or as your main course, you won't be disappointed.
Try it and taste for yourself why you will want this dressing as part of your salad dressing pantry.
Makes About 1 ¾ Cups
Ingredients:
8 ounces Tomato Sauce
½ Cup Olive Oil
⅓⅓up White Wine Vinegar
1 Teaspoon  Greek/Mediterranean Oregano
1 Clove Garlic, Finely Minced
1 Teaspoon Sugar
½ Teaspoon Kosher Salt
Directions:
Add all the ingredients to a medium mixing bowl. Whisk well until well combined and the salt and sugar are dissolved and the dressing is smooth. Store in a tight container in the refrigerator for up to a week.