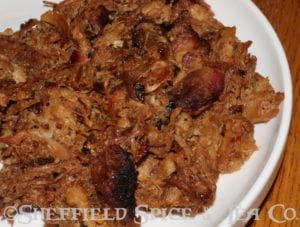 North Carolina Slow Cooker Barbecue
North Carolina BBQ is a bit sweeter than other barbecue styles, and there is nothing better than a slow smoked, all-day, Pork Butt or Shoulder. But we don't always have 8 to 10 hours to hang around outdoors, so we have a North Carolina Slow Cooker Barbecue recipe. We blended our North Carolina Rub in the Western Carolina style to have that touch of extra sweetness, with a touch of chile pepper just for extra flavor. You can use any of our other BBQ Rubs for regional flavors, and the result will be just as delicious.
This slow cooker recipe will produce a tender, fall-off-the-bone meat. You slow cook it for 8-10 hours done indoors, but you don't have to keep tending the fire and watching your grill outside all day or all night. Add the sauce of your choice, a side of coleslaw and beans and your friends will line up for more.
For Pulled Pork Sliders, just use small buns or bakery rolls and you're all set for your party.
You can also use our Gold Rush BBQ Seasoning,  Kansas City BBQ, St. Louis BBQ or The Other Pork Rub or Backyard BBQ Seasoning if you prefer. They all work great with this recipe, adding a regional flavor to your result.
Makes 6 to 8 servings
Ingredients:
1 Boston Butt or Pork Shoulder Roast
Sheffield's North Carolina BBQ Rub – About 1 tablespoon per pound
1-2 teaspoons of liquid smoke, if desired.
Your Favorite Barbecue Sauce, for serving
Coleslaw and Baked Beans as Side Dishes
Directions:
Rinse meat and pat dry. Liberally rub meat with North Carolina BBQ Rub. If you have time, cover in a bowl and refrigerate overnight to let the flavors develop. Place meat in dry crock pot and cook 8 to 10 hours on low setting until very tender and able to easily shred. If you like a crispy crust, you can place under the broiler, watching closely so that it doesn't burn. Turn as needed. If you crisp it up, place back in crock pot when browned to your liking and keep warm until ready to serve. When ready to serve, remove from slow cooker, shred with 2 forks or chop in into fine pieces depending on how you like it. Put back in the slow cooker to keep warm while serving.
Serve as an entree or as a sandwich on bun with coleslaw as a topping or on the side with baked beans.  Try our Gourmet Baked Beans for a great twist on a classic side dish.
Makes About 8 servings