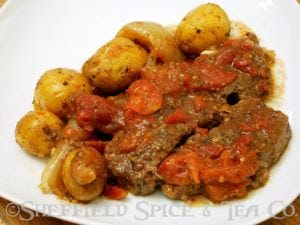 Italian Pot Roast
Italian Pot Roast is a classic Italian dinner. Roast, potatoes, onions, nice tomato-based sauce, what else do you need? It is easy to prepare and once in the oven doesn't need looked at until the time is almost done to make sure it is cooked just right. Our Cattleman's Cracked Peppercorn Blend along with the tomatoes and onion gives the roast a delicious, savory flavor. Using small potatoes instead of cut, larger potatoes keeps them from overcooking and falling apart. We'll add a side of green beans or broccoli to complete the dinner.
Serves: 4
Ingredients:
1 Tablespoon Olive Oil
2 Tablespoons Sheffield's Cattleman's Cracked Peppercorn Blend
1 28 Ounce Can Whole Tomatoes with Juice
1 Large Onion, Cut into 8 Wedges
3 Pounds Chuck Roast, Trimmed of Fat and Cut in Half
6 Garlic Cloves, Cut in Half Lengthwise
1 ¼ Pounds Small White Potatoes
Directions:
Cut 6 slits in roast with a paring knife tip. Insert 6 of the garlic slices into the cuts. Rub the Cattleman's Seasoning evenly on both sides of the roast pieces. Heat the oil in a large Dutch Oven or other heavy oven-proof pot over medium-high heat. When the oil starts to shimmer, carefully transfer the roast pieces in the pan. Cook about 2 to 3 minutes on each side to brown well, but not burn. Remove from the heat. Depending on the size of your roast, you might have to brown half of it at a time.
Preheat the oven to 350F. Add the potatoes, onion, tomatoes with juice, and remaining garlic slices to the Dutch Oven. Cover and cook about 3 hours until the roast is fork-tender.
When done, transfer to a cutting board and either cut into slices or into smaller portions. Cut away any remaining gristle. Skim off any fat, and crush the tomatoes into the sauce. To plate, serve the roast portion with some potatoes, onions then ladle some the sauce over top. Enjoy!