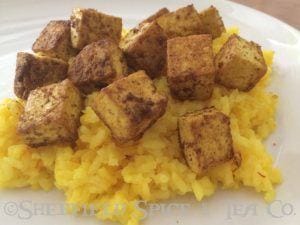 Madras Curry Chicken or Tofu with Saffron Rice
Madras Curry Chicken or Tofu with Saffron Rice is an excellent example of what most diners think of when they think of Classic Indian Curry dishes. Our Madras Curry has all the flavor notes found in traditional curry spice blends. It can be used in most curry recipes and with most meats and proteins found in these recipes. This recipe uses Chicken or Tofu, along with onion, garlic and tomato to complete the flavor palate, which is why it is also a vegetarian dish when made with tofu. The flavor is just as robust with either way.
Since all of our Curry Blends have somewhat different flavor profiles, try it with the curry of your choice. If you want a more complex flavor and a touch of saffron, try making it with our Maharajah Curry. If you want it hotter, try using our Vindaloo Curry. In other words, this recipe works with the curry of your choice.
Serves 4
Ingredients:
3 tablespoons Olive Oil
1 large boneless skinless chicken breast, cubed. (You can substitute 1 block extra firm tofu, cubed)
½ Small Onion, Chopped
4 Teaspoons Madras Curry Powder
1 Clove Garlic, Minced
1 Roma Tomato, Chopped
Chopped Fresh Cilantro (Optional for Garnish)
Sea Salt to Taste
3 Cups of cooked white, Jasmine or Basmati rice, prepared according to package.
Pinch of Spanish Superior Saffron
Prepare rice according to package directions. Add finely crumbled saffron to the rice while cooking. It adds a wonderful, earthy flavor and fragrance to the rice. Keep warm after finished cooking.
Directions:
Heat 2 tablespoons olive oil in a non stick fry pan over medium heat. When the oil starts to shimmer, add chicken and cook until sides are lightly browned about 10 – 15 minutes. Don't overcook so remove from heat when cooked through. If you use tofu cook until the outside starts to get lightly brown and a bit crispy. Remove and set aside.
Put 1 tablespoon of olive oil in the pan over medium heat. When the oil starts to shimmer, add the chopped onion and cook until translucent. Add the chopped garlic and cook for another for 30 seconds. Add the Curry Powder, mix well and cook for a few seconds until fragrant. Add the tomato and cook another 2 minutes. Add the chicken or tofu back into the pan and cook another 5 minutes or until heated thoroughly and coated with the curried tomato mixture.
Serve on Saffron Rice, with salt added to taste. Top with a garnish of chopped cilantro.